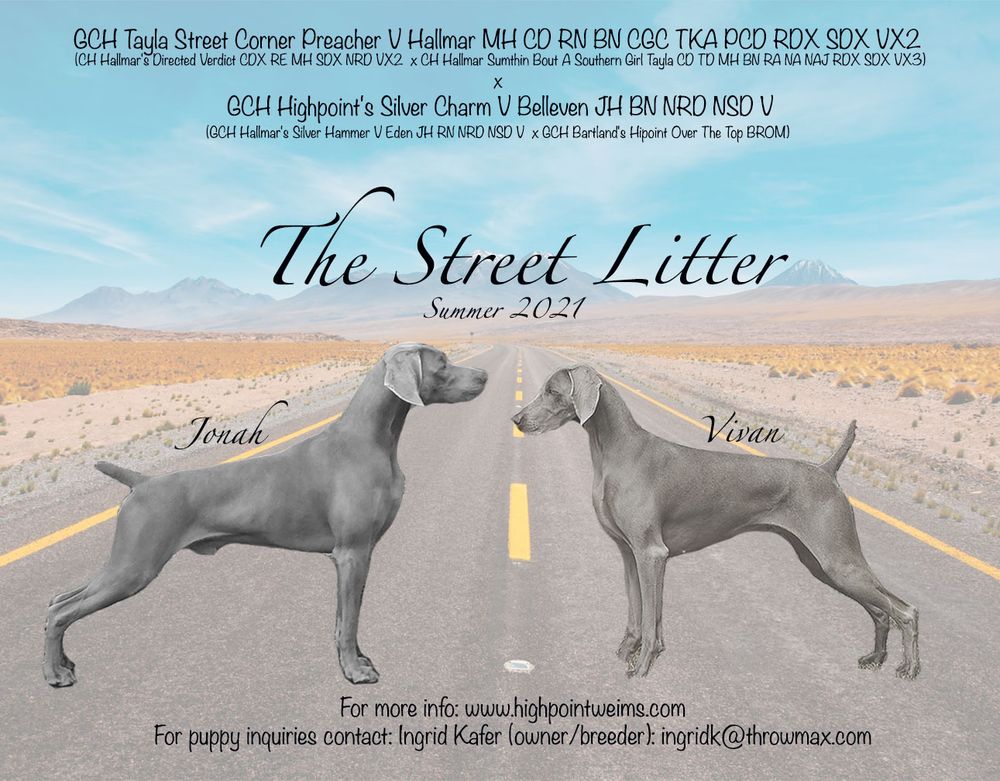 Summer 2021
Jonah x Vivian
BIF BISS GCH Tayla Street Corner Preacher V Hallmar
CD, PCD, BN, RN, MH, CGC, TKA, SDX, RDX, VX2, NAVHDA NA Prize II
PennHip:0.31/0.31 (90th Percentile) - OFA Elbows: Normal 
X 
GCHB Highpoint's Silver Charm V Belleven JH BN NRD NSD V
OFA Hips: Good - OFA Elbows: Normal - CERF: Normal
We are pleased to announce that our beautiful, birdy girl Vivian has been bred to the handsome and talented Jonah! We are excited for beautiful, versatile companion puppies due Summer 2021.  Vivian is a very prey driven girl with tons of drive and an excellent work ethic! Jonah is a lovely dog from South Carolina who has titles that prove his drive, work ethic and biddabiity! We thank Linda Garrett and Mary Ann Hall for allowing us the use of their handsome boy! We look forward to a litter of go-getters!!
Currently our puppy list is full, should any puppies become available we will be sure to post about it here.
---
---
Fall 2019
Skeeter x Lhotse
3 boys x 3 girls born 9/22/2019 have all gone to their homes
GCHS Silversmith I'll Have Another JH CA x GCH Highpoint's Hot Top'ic
Skeeter - Hips OFA: Good - Elbows: Normal - HYM/SD = N/N
Lhotse - Hips OFA: Good - Elbows: Normal - HYM/HUU/SD = N/N
We are proud to announce that we have bred our girl Lhotse to the very handsome, versatile Skeeter! Skeeter is a 3 year old male living with his family on a horse farm in Ohio. He's a lovely dog with tons of breed type! He's a fantastic show dog who has easily placed in lovely competition while being shown both owner handled and professionally. In addition to being an outstanding show dog he loves to fetch his bumper, preferably out of a pond or a swimming hole of some sort.  He works full time with his mom, as the Official Greeter at her store! With this breeding we expect beautiful pups with consistent breed type and versatile hunting/competition dogs as well as excellent companions.  For those looking for a show/competition dog we are currently accepting                  
Thank you to Sharon Hladio, Carrie Albert and Elena Lamberson for allowing us the use of their handsome boy! 
If you are interested in being considered for one of our puppies, please check out what we do with our puppies, and our expectations for new families HERE.  

We do not have any puppies available at this time, we are currently planning a litter for Fall 2019. You may also contact www.bartlandweimaraners.com for puppy availability. 

Thank you for your interest in our dogs!
Born May 4, 2016
The "Dance" litter!
GCH Waltz To The Top v Anson NA OAJ "Logan" 
x
BIF CH Top Hat's Once Upon A Time "Story"

We were so pleased with the first round of pups, we decided to try it again... let's Dance!

ALL PUPS HAVE GONE TO THEIR NEW HOMES.

Our "Dance" litter brings together our foundation male, "Logan" with our Best In Futurity winning bitch "Story" for a repeat of our 2015 TOP litter! Logan has produced multiple American and Canadian Champions and Grand Champions in very limited breeding, bidability, work ethic and prey drive are some things we've seen repeated through-out his litters. Our first litter produced 8 puppies, 2 of which are already major pointed by 8 months old and 2 more waiting to show Spring/Summer 2016. They are fun loving, sweet, biddable and highly entertaining! We are excited to meet the next round.... and hope they are every bit as much fun as their siblings.
---
---
Born May 29, 2016
The "SILVER" litter!
GCH Bartlands HiPoint Over The Top "Ali"
x
BIM GCH Hallmar's Silver Hammer v Eden JH RN NRD NSD V "Oscar"
(AM/CAN CH Orion's Jaeger V Reiteralm TD CD MH SD RDX VX3 BROM x CH Hallmar Cherrystone Tatapanum TD JH SD RDX VX BROM)
OFA Hips: Good
OFA Elbows: Normal
HUU N/N - HYM N/N - SD N/N
9 beautiful pups were born 5/29/2016 3 boys, 6 girls!
ALL PUPS HAVE GONE TO THEIR NEW HOMES!
We are very excited to announce we will breeding Ali to Oscar this spring, for a litter we have high expectations! Oscar comes from a combination of some of our breeds best from years past and some located on the East Coast, beautiful dogs with outstanding temperaments and hunting ability is expected.  Oscar has a wonderful very driven temperament, loves to retrieve, swim, retrieve and swim.... and retrieve... and swim. He's doing spectacularly in the show ring, owner handled to a BEST IN MATURITY and his Grand Championship. Ali adds her keen nose and hunt drive, fun loving and mischievous, yet still easy going temperament and stunning good looks.  We are looking forward to beautiful dogs that should excel as both competition and companions. We appreciate Ingrid Kafer, Stephanie Horner and Mary Ann Hall for the use of their beautiful stud dog and the blood, sweat and tears they put into their dogs to produce such outstanding Weimaraners.